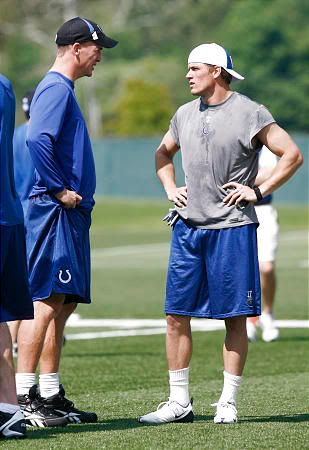 I should not read sports articles when I'm loopy and taking cold medicine. But since I already have, I'm going to take a moment to describe how slashy the recent Peyton Manning SI cover story is.

First of all, the article starts off describing how Colts rookie receiver Austin Collie once attended the Manning Passing Academy and dreamed of being singled out by a Manning and having a ~moment~ together. Tossing back and forth a football. Discussing the NFL. Having a picnic under the stars. Unfortunately, he never had a meetcute with the Mannings and thought that would be the end of the dream.

OH LITTLE DID HE KNOW HE'D BE A COLT ONE DAY.

"Collie and Manning, strangers at the Manning Passing Academy, have seen more of each other than they have of their wives. The football marriage is a big reason why the Colts head into their annual November showdown with the Patriots on Sunday a very surprising 8-0."

The Colts are doing so well because their QB and rookie receiver spend all their free time naked together, SI? Okay, I can buy that. Additionally, "Manning speeds the learning process for Collie by spending 75 to 90 minutes every Thursday after practice watching tape alone with the rookie." They have a date night.

However, Collie is not the only rookie who has a special relationship with Peyton that Sports Illustrated wants us to know about.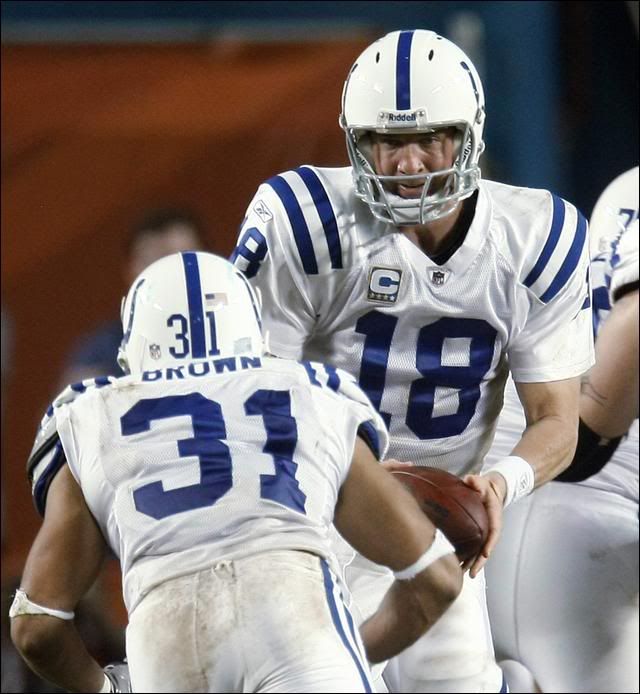 "To understand Manning's 2009 performance, you need to know a few tales...But mostly you need to know about the text message Manning sent to [Donald] Brown on the Sunday of draft weekend, before they'd ever met. The message read: 'Meet me at the facility at 8 a.m. tomorrow. Warmed up. Ready to go.'"

/HEAD IN HANDS

Why are you doing this to me, SI? You make it so easy.

"Anytime Manning steps behind center and starts pointing and gyrating, history tells us, good things are about to occur."

I'm in hysterics, folks.

"'To understand why [Manning] hasn't struggled,' Dungy says, 'you have to understand the way his mind works. It drives him every day that the offense will be better, not just as good as it was. The new guys will fit in. He'll make them fit in.'"

OH MY GOD OKAY THAT'S IT. STOP IT. I'm willing to go along with everything else but that is just crossing the line of sports journalism. Don't even suggest those rookies don't want it, SI.

This article also digs into a relationship in the past:

"Qadry Ismail learned as much in 2002, his lone year as a Colts wide receiver. On the team's charter...Ismail was settling in for a restful 2 1/2 hour flight when Manning approached. 'Peyton comes up with this serious look and his notebook....He's like "As opposed to giving you the fingers...I'm going to give you the fist"...He's ultimate micromanager. He controls everything.'

Ismail retired after that 2002 season because of a neck injury. Want to get him morose fast? Ask him if he regrets having had only one year with Manning. 'You have no idea,' he says."

PEYTON, YOU HEART-AND-NECK BREAKER.

SI goes on to describe Peyton's perfect man: "'Has to have speed but doesn't need to be a burner. Has to have good hands. An instinctive feel to get open--very important. Size we'd like, but it's not critical. Work ethic, because he has to fit with Peyton's demands. Maturity.'"

Collie has the last word among the rookies. "'The one thing I did touch on [during the interview] is that I'm a perfectionist,' says Collie. 'Everything has to be right. Everything has to feel perfect. Maybe they thought that would be a good match for Peyton."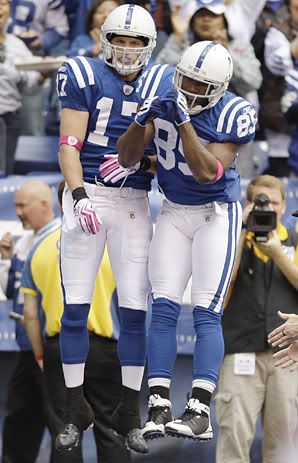 So, basically, people need to write lots and lots of porn about this. Especially if it involves Collie and Pierre Garçon both trying to get in Peyton's pants.