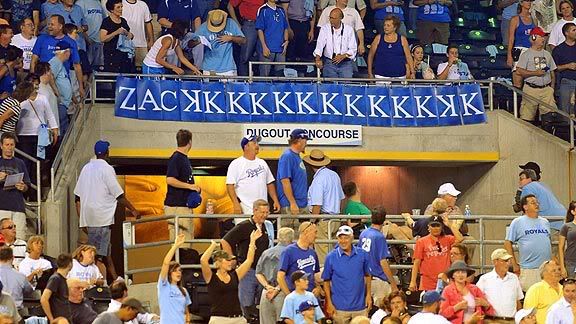 Zack Greinke of the Kansas City Royals won the 2009 American League Cy Young award. Deservedly so, he took 25 of the 28 first place votes. The Royals and their fans don't have as much to celebrate as some other teams we know and love but Greinke is an amazing athlete and dominated the AL all season long. He is so much fun to watch. Congrats to him and I hope he has success for many more years to come!
Current Mood:

pleased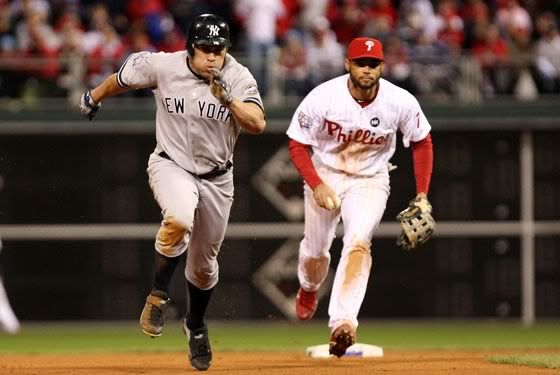 What can I say besides: BLESS THE SHIFT! What a perfect storm of using the Phillies' defense against them to win the game.
This is baseball at its best. I don't know if I'm ever going to stop getting emotional when I think about that ninth inning. One for the books, definitely.
So many things went right for the Yankees last night with two outs in the top of the ninth inning but this was the game changer:
Current Mood:

ecstatic


This is making me laugh until I cry. I know the "YEEEEEEEEEEEEEEEEEEEAAAAAAAAAAAH" is coming but I still start giggling like a loon every time.

My belly hurts and I almost peed my pants AFTER going to the bathroom.

Quick, someone post the comic of Caine taking off his sunglasses to reveal another pair of sunglasses.
Current Mood:

amused
/in love with these men forever
Except to say: gods above, why?
Current Mood:

gloomy
HAPPY PLAYOFFS, EVERYBODY!
In other fabulous news:
Phil Hughes has shaved. The first thing I said to him was that he had the worse mustache I'd ever seen, to which he laughed. "The worse the better," he said. Hughes shaved the thing last night. "It was starting to get irritating," he said.
Via Chad Jennings at
LoHud
.
THIS GUY!
WHO HAS TWO BOTTLES OF CHAMPAGNE AND KNOWS HOW TO PARTY?
Current Mood:

awake
Today is a good day for the church of baseball.
Current Mood:

chipper
Hurrah!
Let's just say that for a while I was all:
But then I was like:
How are you all?
Nervous Breakdown = cancelled.
Everything that is right with the world is in
Glee
.
Gif made by
fight_the_sky
I think I have a show again.
Current Mood:

bouncy